The Jewelry Store Mesa Can Rely On

B & B Pawn and Gold is more than just a pawn shop.  Because there is another type of store that most customers are not familiar with when thinking of us: a jewelry store.  Yes, B & B Pawn and Gold is the Jewelry Store Mesa loves to get more for their money when buying jewelry for themselves or loved ones!.  Let us explain how and why!
We've Gathered All Our Wares from Customers!
Unlike traditional Jewelry Stores Mesa, ours is unique in that the selection we have to offer come from local owners themselves.  So we are further showcasing local enthusiasts in the jewelry we collect and sell to the community.  This is different from a jewelry store that may be limited to one or two brands of jewelry.  We have no such limitations, outside of what our customers bring to us.  You will even find Cartier, Tiffany & Co., Chopard and more, along with GIA graded diamonds for sale at an affordable price!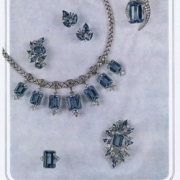 We've Got All Types of Jewelry for Sale
The beauty of being a Jewelry Store Mesa citizens turn to is our unique and ever changing selection of jewelry.  This is, once again, primarily due to the unique flow of customers providing said jewelry to us after we buy the jewelry from them.  This reminds us that we need to not only offer a wide variety of jewelry, but also a decent value for their purchase.
What Types of Jewelry Do You Have/Take?
Most commonly, we have rings, earrings, and necklaces.  Those have been our bread and butter, as well as the majority of jewelry for the past ten years.  That does not mean those are the only types of jewelry we take in.  We've taken in silver, gold, diamond, and even platinum jewelry sets before and will continue to do so.  That said, our selections change rapidly, so contact us and see what we have available.
What Makes B & B Pawn and Gold The Jewelry Store Mesa Locals Trust?
B & B Pawn and Gold continues to provide great services to our customers as we continue to remain in business.  As such, we are going to offer our best services in jewelry purchases as well.  So if you have jewelry, and live in Mesa, let us be the first choice in mind.  Call now!
https://www.bandbloan.com/wp-content/uploads/2018/02/6637973067_3b6ab5f09a_w.jpg
300
400
B & B Pawn and Gold
https://www.bandbloan.com/wp-content/uploads/2018/11/logo-1.png
B & B Pawn and Gold
2018-02-27 08:00:56
2023-07-20 18:23:14
Jewelry Store Mesa