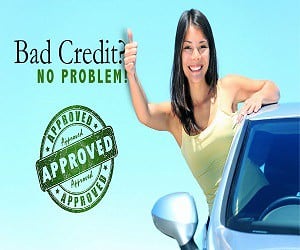 Bad Credit Title Loans
Credit can be one of the most infuriating things people in Mesa, Tempe, or Chandler have to deal with.  Whoever thought that having a 3-digit number control the vast majority of an individual's life was a wise idea clearly did not think it through.  Credit is something that's impossible to control, is determined by someone else, and can sometimes just be flat out wrong.
It's unfortunate that such important things in life can be left to the determination of just this number; particularly when you have no control over it whatsoever.  Fortunately, B & B Pawn and Gold doesn't believe that this simple number should define an individual nor the ability to get a helping hand when they need help out of a sudden financial situation.  With our Bad Credit Title Loans, we can completely ignore credit as a qualifying factor and still put fast cash in your pocket in a matter of minutes.
How is Bad Credit Not A Problem?
Auto title loans are a unique financial instrument that has the option of using traditional financial factors like credit score, employment, and income; or can entirely ignore them!  It's a form of a collateral loan (also known as a leveraged loan); the type wherein the primary determining factor of your eligibility to get cold, hard cash is the actual value of your car.
What this means is we can go even deeper; ignoring things like having a salvage title. In some cases, even the running condition of the car is not always a deal breaker (to be fair, those instances are extremely rare, if at all). Literally, if your car has any sort of value, then you're able to get a Bad Credit Title Loan in Mesa, Tempe, or Chandler from B & B Pawn and Gold.
How?  I Have Bad Credit and Need a Loan!
You're more than welcome to just drive on down to our Mesa pawn shop. But we highly recommend that all people in need of a Bad Credit Title Loan fill out our Title Loan Application beforehand.  Doing this allows us to evaluate your specific conditions; we then come up with an offer specific to you before you even show up!  This also expedites the process for you immensely; this is because we can have all the paperwork ready to go upon your arrival.
If you decide to just come on down in person from Mesa, Tempe, or Chandler, then no problem whatsoever!  Make sure to visit with the car in hand so that our trained associates can take a look; also bring spare keys, proof of income (if you have any), and a bill with your address.  The rest of your Bad Credit Title Loan is based on the following:
The condition of the vehicle(both interior and how it runs)
and other small factors relating to you like spare keys or anything else that you'd like us to include.
What Happens Should We Accept the Offer?
Should you choose to accept our high cash offer, we'll put cold, hard cash in your hand that exact day; following that, each month you just come on down to our store to make a monthly payment. After a certain period that's chosen by you, your Bad Credit Title Loan is entirely paid off and the car is again fully yours.  The best part about this is that you can continue to drive the vehicle around as if nothing has happened!
All residents of Mesa, Tempe, and Chandler are eligible for our Bad Credit Title Loans no matter their individual circumstances.