Pawn Audio Equipment & Have It Back In 90 Days Or Less
Playing live music takes more than just talent, practice and commitment to get your audience out on the dance floor.  It takes time and a lot of money to create the presence and sound that is the signature style of your band.  Therefore, it is a conundrum when you need some fast cash.  Because it is not an option to sell your instruments or equipment.  However, we here at B & B Pawn and Gold can help.  You get the cash you need when you pawn audio equipment at our store.
Pawn Audio Equipment and Get the Cash You Need
Pawn loans have quite a few advantages.  For instance, the money offered to you is based on the quality and condition of your audio equipment.  Therefore, pawn loans are hassle free and do not require credit checks, calling your employer or need the account number to your bank.  Furthermore, once the assessment is complete and our offer is accepted, you can have cash in your hand in as little as ten minutes.
Yes….CASH in mere minutes can be in your hand!
Meanwhile, you will have 90 days to pay the loan off in full.  For the duration of the loan, your audio equipment will be stored and secure. On the day the loan is paid in full, we will happily return your valuables back to you.  You are more than welcome to satisfy the loan at any time during the 90 days.  In addition, the interest charges will be pro-rated to date of payment.   So consequently, you can pay it off all at once or come in and pay throughout the term of the loan.
However, if you are unable to satisfy the loan by the 90th day, we can work with you.  Come in to B & B Pawn and Gold and pay only the interest accrued, on the pawn audio equipment ticket, and we can extend your loan for another 90 days.
 Equipment We Loan On
Bring in any model and any brand of the following to pawn audio equipment for a cash loan.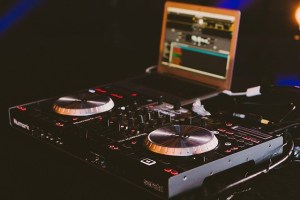 Active or Passive PA Speakers
Foot Pedals or Multi Effects Unit
Floor Monitors
In-Ear Monitors
Microphones
Stands for Mics and Instruments
and more!!
Please make sure you have all the necessary connectors and cables for each piece of audio equipment brought in to B & B Pawn and Gold.  This will ensure we can properly test and assess it.  This also does add more value to our cash offer for a pawn loan.
All assessments of audio equipment at B & B Pawn and Gold are free of charge.  Nor is there any obligation to accept our cash offer!
The Value to Loan When You Pawn Audio Equipment
For any and all audio equipment utilized for a pawn loan, it does need to come in to B & B Pawn and Gold to valuate. As a result, our cash offer heavily relies on the condition of the equipment.  To clarify, that is both the exterior's visual appeal, along with the internal working condition of the piece.
Wit this in mind, bring in your valuables in their best possible condition to our store.  Along with any cords or accessories that it came with at the time of purchase.
Click on the bottom right of the screen, and speak to an assistant via live-chat.  They will gladly answer any of your questions and even start the process on-line, before you even arrive at our pawn shop, to pawn audio equipment at B & B Pawn and Gold.