Sell Snap-On Tools for the Most Cash Possible!
We all know that there are many brand names of tool sets that are well respected and sought.  But there is no brand more well known in America than Snap-On Tools.  Not only are they well made and produced, but they continue to hold their value as well.  So consequently, if you find yourself in a financial bind, or looking to let go of the tools you don't use, you still want to get the best offer possible when you sell Snap-On Tools.
That's when you find out how grateful Mesa is that you have B & B Pawn and Gold is on your side.  Because no one offers customers more to sell Snap-On Tools than we do.  Come on down, and let us make that offer and turn it into cash in mere minutes.
Sell Snap-On Tools to B & B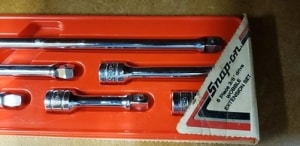 Out of all valuable items brought into B & B Pawn and Gold, tools of all kind is what we see the most.  Therefore, are staff are very skilled and experienced when it comes to valuing Snap-On Tools, along with other major brands.
There are certain things you can do to help you get the cash you need from your Snap-On Tools.  First, you want to make sure that any tool sets you bring in are clean and presented in their best possible condition.  In addition, you want to make sure that any set you bring in, is complete.  You also can bring in any receipts from the time of the purchase with you to help increase our offer.  Finally, if you have the packaging that they came in, is helpful as well.
Once we confirm your tool set is complete and are all Snap-On Tools, we will refer to the current market value of the same set.  After that, we will be able to confidently present our offer to you.
*Our assessments on tools are free of charge, nor is their an obligation to accept our cash offer.
From Offer to Cash in Hand
If our cash offer is accepted, we will need just a couple of things to seal the deal.  First we need your valid and current Arizona ID, followed by a few signatures.  After that, we will count out the cash directly to you.  From start to finish, the entire process can take as little as 10 minutes.
B & B Pawn and Gold continues to lead the way with our offers to sell Snap-On Tools and more!  Come on in and see what offers we have waiting for you!