Sell PlayStation 5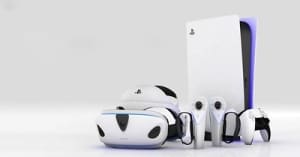 Now that life seems to be going back to normal and business is resuming to full capacity, we must too.  This means you will no longer have the endless time to spend on the games you've streamed.   It's time for you to cash in and to sell PlayStation 5 for the most cash possible and return to the office, social engagements and living a full life once again.
But where in Mesa are you going to get the highest cash offer for your game console?  The answer is B & B Pawn and Gold.  Because it is our goal to be the the pawn shop that makes the best offers, and is the one that puts that cash in your hands as quickly as possible.
We Turn Offers Into Cash When You Sell PlayStation 5 to Us!
At B & B Pawn and Gold, we will assess your gaming console and accessories and present our cash offer quickly.  Our staff member will begin with looking at the exterior of the console, making sure that has been well taken care of.  After that, we will test to ensure it powers up properly and all its functions are in good working order.  Next, our associate will refer to what the current market value is of your gaming console, and then present our cash offer to you.
Our valuations of your game console are complimentary, and there is no obligation to accept our offer.
If our cash offer is accepted, we will need a few signatures and your valid Arizona ID.  Once the paperwork is completed, we count the cash out directly to you!  Within as little as 10 minutes, we can assess your PS5 and turn it into cash in your hands!
Helpful Hints to Increase Your Offer When You Sell PlayStation 5
Make sure you have all the accessories that came with the console when you bought it.
Have with you any accessories or games you bought separately for your PS5.  For instance, your VR Headset.
Bring it into our store in its best possible condition.
Have your receipts from purchase, along with its original box.
The Pawn Shop Mesa Relies On!
For over a decade, B & B Pawn and Gold has paved the way to offering the most cash possible when you sell PlayStation 5 or other valuable items to our store.  We strive to offer Mesa, Tempe, Chandler and Gilbert a viable means to turn their valuables into fast cash!

If you would like to get a head start, go ahead and click on the bottom right of your screen.  This will connect you with our next available customer assistant via our live chat.  They will be able to answer any questions you may have, and even begin the process online prior to you arriving at our store with your PS5 and accessories in hand.