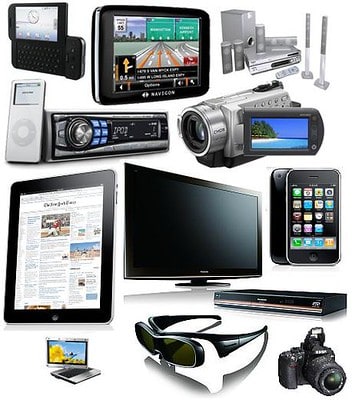 We are THE Electronics Buyer Mesa Trusts MOST!

#1 Electronics Buyer Mesa, Tempe and Chandler Area!
B & B Pawn and Gold knows that everybody has some type of electronic device around out home. You can't escape it. Electronics in the form of cell phones and tablets, laptops and computers, TV's, DVD, Blue-Ray, Video Gaming Systems you name it. Even the tools that most contractor and carpenters use today are electronic. How about music? Electric guitars and basses, electric pianos and keyboards, electric drums and synthesizers. Electronics are all around us. But what do we do with our Electronic Devices after we have upgraded. We just got the latest and greatest cell phone but what do we do with our old one? If only there were an electronics buyer around who could take this off our hands.
B & B Pawn and Gold is working hard to earn your business and becoming Mesa's number one electronics buyer by providing our customers with the best cash offers for all of their used electronics. All you need is to be the legal owner of the electronic item, and it to be in good working order and we will buy it from you. We offer the most cash for your electronics, GUARANTEED!
Sell Your Electronics for Cash!
That's right, as Mesa's top Electronics Buyer you can bring in your used electronics and sell them to us for the most cash anywhere.
We use an aggressive pricing system that is designed to give you maximum dollar value for your items. THAT MAKES US THE NUMBER ONE ELECTRONICS BUYER IN MESA, TEMPE, CHANDLER AND GILBERT.  Our pride comes from the ability to give you the absolute MOST cash for your items for computers, electronics, iPads, iPods, and cell phones.  NO OTHER PAWN SHOP WILL GIVE YOU MORE! Come in today for a free consultation from one of our expert employees. See for yourself just how serious we are.
Look No Further to Buy Electronics at a Reasonable Price!
Not only do we give you the most cash to buy your electronics, but if you are also in the market to buy either new or gently used electronics, then we are also the place that will sell used electronics at the best prices possible.
So take my word for it, whether you want me to buy your electronics or to sell my electronics, B and B Pawn and Gold is the place to be!  With over a decade of experience in the great city of Mesa, we've become electronics experts.  We're the new Radio Shack of the valley of the sun, and are experts at appraising any and all electronics which means you can be assured you're getting the most cash that anyone has to offer.  Don't turn to Craigslist or any other pawn shop in Mesa, Tempe, or Chandler, come straight to us and we'll beat any offers!