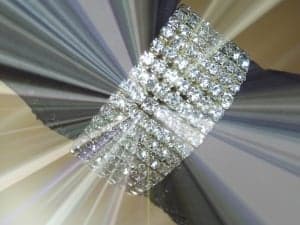 We Are Your Diamond Jewelry Buyer
B and B Pawn and Gold offers more cash, because we want to be your diamond jewelry buyer. With over 10 years serving the east valley, our staff's impeccable service is priceless in this industry! Our employees are certified and have the most advanced technology to assess your diamond and gold jewelry and turn it into cash!
Your Diamond Jewelry Buyer – Seller – Trader and Pawn Store
Our store will take any and all diamond jewelry in Mesa and its surrounding areas. No item is too big or too small. Whether your diamonds are set in a gold, silver or platinum wedding band set or are loose, B and B Pawn and Gold pays the most! From $100 – $100,000 and beyond.  
Moreover, we will buy your diamonds outright, or will make you the highest offer on a secured short-termed loan based on their value.
We even have a vast array of jewelry in our store to buy Diamond earrings, rings and pendants from Tiffany's, Cartier and Tacori are worth a pretty penny too.
Bring your diamonds in for a free valuation today from Mesa's best diamond jewelry buyer!
The 4 C's of Diamonds!!
While there are a variety of stones that are considered precious gems, diamonds continue to hold their value well.

Their value is characterized by what are known as the "4 C's":
All four of these areas have an impact on the assessment and the offer from a diamond jewelry buyer. We take pride in our skilled staff, to ensure the highest cash offer, with the experience to determine accurately and quickly. Because we know its size does not measure the beauty and brilliance, but it can make it easier to admire.
The cut is the most important, because the facets make light sparkle. Next, a spectrum of a colorless stone (the most rare), to an array of colors and hues of many colors hold it's significance and value. Followed by the clarity aka, any visible "blemishes and inclusions", that are the internal and external flaws found.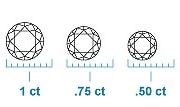 Finally, the last consideration is the carat size. For instance, a .05 carat (half a carat in weight) may be small, but a large cash offer of $2000 or more offered for a pawn loan. Because a small diamond does not signify how brilliant its quality is in the other three aspects. An almost clear diamond or faint blue hue of color, articulately cut to catch the light and its clarity has minute "blemishes" is a petite, yet rare find.
We take into account all the aspects, because it is an art to determine intrinsic beauty in a stone! And we are masters when it comes to establishing a diamond's quality!
On-line Assistance is a Click Away!

If you would like more information, please click on the live chat on the bottom of the page. An associate will be able to answer questions and begin the process on-line. Upon your arrival, refer to the live-chat and a staff member will complete the assessment and accurately make you the highest offer possible as your diamond jewelry buyer!
HASSLE FREE Short-Term Loans
With a secured loan, we never a need of a credit check or proof of income! Accept our cash offer and your valid ID and a few signatures will put cash in your hand!
Pawn loans give you 90 days to satisfy the loan. We never charge a penalty when its paid off early. We also offer an option to extend another 90 days, with paying only interest accrued, if needed.  Each contract extension is based on the remaining principal plus interest.
Serving Mesa, Tempe, Chandler and Gilbert with more ways to add to your cash flow and peace of mind as your diamond jewelry buyer!