Pawn Musical Instruments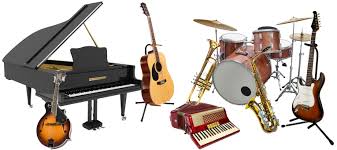 When we say we Pawn Musical Instruments we mean that WE PAWN MUSICAL INSTRUMENTS!
Mesa's NUMBER ONE Pawn Shop has a pawn loan for your musical instruments. Electronic, acoustic, brass and woodwinds from accordions to zithers and everything in between, we pawn musical instruments!
We pawn guitars (acoustic and electric as well as amplifiers)
We pawn drums (acoustic and electric)
We pawn keyboards (pianos from grand to electric suitcase)
we pawn orchestra, combo, band and marching band instruments (anybody have a Glockenspiel?)
And everything else!
If you don't see your instrument here, don't fret(pun intended)!  There's very few musical instruments, and items in general, that we won't pawn.  Here at B & B Pawn and Gold, our mission isn't to make a quick buck off of our precious customers, but to help them get money in their time of need.  So feel free to drop us a line at any moment to ask if we take it, or just stop on by!  We in fact prefer you to come into our store as a phone call is not very personal.  We like to get to know our Mesa customers to help them better, so stop on by and pawn your musical instrument today.
Whether you have a child who's not sure about what they want to play in band class, an old guitar or horn that just sits around collecting dust, you can get cash today. Pawn Musical instruments in Mesa, Tempe, Chandler and Gilbert.
So What's A Pawn Loan?
Literally, just about every musical instrument you could imagine we can most likely make a pawn loan on.  What's a pawn loan?  A pawn loan, also known as a collateral loan, is a loan in which you basically use your item, in this case musical instruments, as insurance for the loan so to put it.  This means that after you bring down your musical instrument, we give you cash based on the value of the item.  After you take and accept the loan, we take possession of the item throughout the duration of the pawn loan.  This is just in case of nonpayment(we hate to repossess items and will do everything we can to not take your items) so that we can get our money back if necessary at the end of the loan.  Most of the time, this isn't an issue for most of our customers.  The items are kept secured in our monitored storage facility until you pay the loan back.
When you do pay off the full loan balance, we'll simply give you a receipt to show that you did pay it back, and then we'll get your item from the back and give it back to you!  All of our musical instruments are placed carefully and separately from the rest of our items, and are not touched whatsoever after the day you pawn them.  You can always rest assured that they will be in the exact same condition that you delivered them to us in.  So don't delay, pawn musical instruments in Mesa today!