Looking to Sell Watch Mesa Residents?

It's getting to be time to Sell Watch Mesa for the most cash possible!  With all the newest technology taking the place of our handy wrist companions from the days of old, there's never been a better time to sell a watch Mesa.  Here at B & B Pawn and Gold, we gladly welcome a fine watch or fashion watch you may be willing to sell.  As a highly rated, notable watch buyer in Mesa, we give you top dollar for fine brands like:
Rolex – Cartier – Omega – Patek Philippe – Breitling – Breguet – Audemars Piguet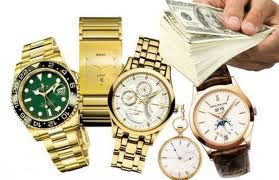 Our Authentication Process
Having the original box and papers for your watch significantly increases the value you could receive when you sell watch Mesa residents.  It also confirms authenticity in a way not much else can.  With original documents we're even more happy to be your watch buyer!  Don't forget to bring them in if a higher offer is important to you.  Another added benefit is having the original invoice for the watch.  So bring it in as well!  This further assists us in authenticating the timepiece.  It will also speed up the process to sell watch Mesa!
As the top watch buyer in Mesa, we're here and ready to help get you fast cash.  In addition to the above mentioned brands, we also buy gold watches!
If it looks like we're only mentioning flashy, expensive watches, these are definitely not the only watches we're happy to buy.  Let's be honest; most of us don't own those brands and if we did, it probably wouldn't be sitting around collecting dust.  All kinds of watches have value whether they include silver/gold or not.  These watches are sometimes referred to as "Fashion Watches".  They include brands like Fossil, Michael Kors, Nixon, and so many recognizable others in the clock making world.
We buy everything for cash, so if you want to sell fashion watches, don't think we won't be your buyers because in Mesa, Tempe, and Chandler, we definitely will be the place to go to sell watch Mesa residents.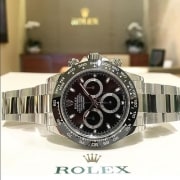 Rolex
One of the most well known watch companies, is Rolex.  We take ALL different Rolex models (New, Used, Vintage, Broken).  Some examples are: the Submariner, Presidential, Daytona, Cellini, Air-King, Cellinium, Cestello, Datejust, Explorer, GMT-Master, Milgauss, Quartz, Sea-Dweller and the Yacht-Master.  In addition to buying fine and fashion watches, we sell wide selection of fine watches.  Always remember you have the option to take a loan on these very same watches.  Stop by our store and browse the showroom for high-end watches at discounted prices!  Make us your one-stop shop for luxury watches, sport watches, and so much more.
To sum it up, it's easy to get the cash flow you need today by accepting a cash pawn loan with us.  We're here for our community in Mesa, Tempe or Chandler.  There's also a live chat feature on our site if you just don't feel ready to leave the house yet. We are the friendliest watch buyer Mesa has!  Stop by today to get the MOST cash when you sell watch Mesa residents!