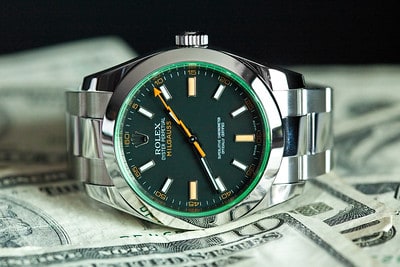 We Pawn Fine Watches Mesa Locals Love!

The phrase 'time well spent' has a whole new meaning when you pawn a luxury watch with us.  At B & B Pawn and Gold, those beautiful timepieces in your possession can get you the money you need fast.  At our pawn fine watches Mesa location we take innumerable styles of finely crafted, respectable watch brands like Rolex, Breitling and more!  We also buy these very same watches from our customers every day.  Stop in for our staff to answer any questions you may have about the types/styles of watches we carry.
What Kind of Payout Are We Talking Here?
The payout for Fine Watches varies by brand, condition and whether or not you're able to present authentication papers.  That's not to say you won't be able to get a pawn loan without proof, it might just affect the amount we're able to give you. When you pawn luxury watches, you get an average loan payout of:
Rolex 
Cartier 
Omega
Patek Philippe 
Breitling 
Breguet 
Do I Need a Rolex, Cartier or Patek Philippe to Get a Watch Pawn Loan at the Pawn Fine Watches Mesa Store?
Surely not.  While we do pawn loans on a large number of luxury watches, we loan on other less expensive brands as well.  Our customers often have watches with 14 to 22K cases or bands.  This can also increase the payout on your watch pawn loan. Even if this nature of watch is broken, we have a watch pawn loan available for you.
How Does a Pawn Loan Work at B & B Pawn and Gold?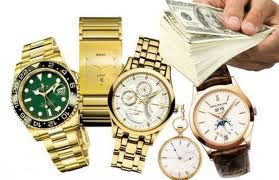 Firstly, we always pay more for bringing the original box and papers with a collectible watch.  Pawn Loans work like any other loan, but more significantly more flexibility and a lot less discrimination.  You can get your money in minutes when choosing to accept the 90-day term we offer.
During that time you get a chance to pay off the loan or simply the interest and extend it an additional 90 days.  If you end up choosing to let it go once and for all, just wait for the period to end and forfeit your watch!  This is how lending on collateral has worked for thousands of years.  It's easy to get a loan from us at B & B Pawn and Gold.  We refuse to discriminate and are simply the best option for a pawn fine watches Mesa Store!
Bringing the watch by itself will get you cash, but if you want the most bang for your buck, bring in the original box and papers.  Near-mint condition gets you a lot more from our Pawn Cash Loans.  If you have the original invoice for the watch, bring it in.  It assists us to authenticate the timepiece and speeds up the process.
Give Us the Chance to Serve Your Most Immediate Needs…
To sum it up, if you need emergency cash, bring your watch to our Pawn Fine Watches Mesa.  One of our courteous, trained professionals can provide you with a free appraisal.  After just a few minutes you could be walking out with the money you need.  B & B Pawn and Gold is a full service Pawn Shop operating in the Cities of Mesa, Tempe, Chandler.  For all your pawning needs, stop in and get the cash you deserve.
If you're not up for leaving the house, we also have a live chat feature available and we're ready to hear from you.  Pawn Fine Watches Mesa residents at B & B Pawn and Gold in Mesa for the most cash possible on a 90 day secured loan. !