Diamond Jewelry Loan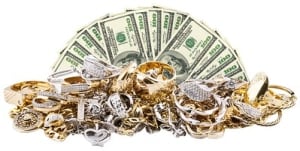 One of the premium services that we're proud to offer at B & B Pawn and Gold is the ability to turn diamond jewelry into a fast source of cash in mere minutes.  When financial disparity hits, we're often forced to sell our valuables feeling that there's no other option.  That's far from the case, our Mesa pawn shop has been helping residents in Queen Creek, Mesa, and Chandler turn their valuables into cash in moments so that they don't have to part from them.
Particularly when it comes to diamond jewelry, we understand both the sentimental and valuable nature attached to them. We would hate for people who need a little financial help to have to part with them.  At B & B Pawn and Gold, you can get a diamond jewelry loan in no time at all with access to your jewelry when times are better for you.
How A Diamond Jewelry Loan Works
It's as simple as collecting whatever pieces of diamond jewelry (diamond rings, necklaces, earrings, even broken diamond jewelry). Shortly afterward it comes down to bringing them to our Mesa pawn shop.
With most other items, we're able to provide quotes via our chat or over the phone. But due to the sensitive nature of diamonds, and often the precious gems like gold and silver they're set in, it's a requirement to see them in person for us to accurately give a quote.
Getting Off Track a Bit…

Back to the point!  Bring your diamond jewelry down in person, and one of our associates will take your pieces from you; starting the inspection process.  First and foremost, we're looking at the quality and condition of the diamond.  All of our associates have gone through a rigorous diamond course based in the Four C's of diamonds: cut, color, carat, and clarity.  This appraisal takes a specialized eye; diamonds can have things known as inclusions, which sit on the inside of the diamonds. These inclusions are challenging to see.
If you purchased your diamond (in particular diamond rings have these), you should have gotten a certification indicating the quality of the diamond jewelry.  This certification helps us immensely in our valuation, so definitely bring it down if you have it.  It will increase the cash offer you receive for a diamond jewelry loan.
What Happens After Having This Information?
With all this information in hand, our associate will make you a cash offer.  This offer is the amount of money we'll more than happily give you for your diamond jewelry loan.  The reason for this is that it's a form of a collateral loan – all we care about for your investment is the quality of your diamond jewelry.  When you accept, your diamond will sit in our safe, secure, and monitored vault throughout your loan.  By default, we write these loans out for 90 days. During which, you can reclaim the diamond by paying the principal and interest at any time in this period; then we'll return your diamonds to you.
The Lowest Cost Diamond Jewelry Loan in Town
B & B Pawn and Gold has been the leading diamond jewelry seller, buyer, and loaner in all of Mesa, Tempe, and Chandler.  Our associates have the most amount of experience in the pawning business; they work hard to ensure you're getting the most amount of cash for your diamond jewelry.  Come and get a free quote in minutes!